Everyone from toddlers to pensioners, cycling is extremely fun, if I have to describe cycling in one word I would say "Freedom". Cycling is a popular sport and leisure activity that offers a wide verity of health benefit. Traveling by bike really gives an extreme, full body exercise and take you out from stress.
As a cyclist, the best quality material bike helmets is among the most crucial safety accessories to wear. It reduces the chance of fatal head injuries for up to 80%. Thousands of cyclists around 1 out of 3 involve head injuries lost their lives each year only in the United States.
The modern range of bicycle helmets is mostly lightweight, smart and is also highly adaptable for all types of users and BMX racers too. The prices of these helmets range from $100 to $200 for top quality models. Contrary to what people might believe, costly bicycle helmets offer no added protection, but are only lighter in terms of weight and offer extra comfort and increased ventilation. Following are a few of the best helmets for bikes.
List of 9 Best Bike Helmets including Smart and Non-Smart
The Lumos smart bike helmet is a top-notch helmet for those who commute in the night.  It has some extra layer of safety in the form of 60 LED lights in back and front which controlled by a little wireless remote that can be easily mounted on the handlebar of any bike. And the most surprising thing about this remote is, it works as an accelerometer signal switch. So, when you apply brakes for sudden stop all lights on the back turn in to solid red.
An easy one press multifunction on/off switch that doubles to switch between three different backlight modes consistently on, slow blink and fast blink. Even though the accelerometer is sensitive enough to trigger even when lightly braking which is perfect, but I noticed backlight also illuminate when I turned the handlebars for changing the lane because it triggered as a deceleration
Lumos battery life is quite impressive it took 2 hours to get fully charge and last up to 4 – 6 Hours on per single charge. While testing this helmet I turned off the braking light feature because it tends to reduce the battery life very quickly.  Note that you will need to recharge both the handlebar controller and the helmet. Good thing is that it charges easily through the magnetic cable similar to charging a MacBook Air.
It feels like a regular helmet to wear, but its great visibility in might makes you more visible on the road and that makes your ride safer. Especially the turn signals are bright enough to recognized by any motorist when your hand signal isn't much visible in the night. However, the front white light strip of the helmet is not that much bright as the cycle front headlight. So do not rely on the strip light to get you home.
This helmet not only offers the safety around the drivers. You can pair this helmet to your smartphone by downloading a free app which is free for both Android and IOS. This app controls almost everything of the helmet. You can control the brake light, see the accurate percentage of the battery life which is obviously very useful and this app can also integrate with Google fit and Apple Health to track your exercise.
PROS
MIPS technology included
Solid construction
Can integrate with Google Fit
Next up we have the Livall MT1, an innovative revolution towards mountain biking. At first glance, you wouldn't think that this smart helmet packed with the array of a smart technology of any sort. This newly released version of Livall helmet is more suitable for mountain biking.
A Chinese based company Livall pushed the boundaries what's available today. One thing we can state without a doubt is that their consistency is something that relatively few can compete with. This clever protective gear not only comes with basic stuff which you get from other smart helmet companies, here Livall gives you a  remote control called smart billing jet and Nano cadence sensor.
The outer shell of this helmet build with one-millimeter thick high-quality PC material and the interior is made with EPS foam that ensures a bike rider for comfort and safe journey. The unique design of its 21 ventilation mechanism, based on aerodynamic design not only keep your head out of sweating, but it also reduces air resistance. And at the front, there is a Visor which saves your face from sunlight.
Besides its sleek looking, the new MT1 model of Livall does everything it's supposed to do. The Lival cadence sensor that is a world's smallest single unit cadence sensor "claimed by Livall" can be attached with bike pedal and connects via Bluetooth to accompanying Livall riding mobile app. So, the rider can monetize fitness and distance traveled.
Not just that, the Livall MT1 helmet is equipped with Bluetooth speaker which makes riding more enjoyable, wind-proof mic for receiving phone calls, turn signals, safety light, and walkie-talkie functionality to stay in touch with teammates. I also want to mention its safety SOS feature, in case you had an accident, the built-in gravity sensors would sense the internal strike and send immediate notification to your family.
A handlebar bar controller called "bling jet" controlled all the function of the helmet. With this smart remote you can send turn signals to your fellow riders, play or skip music, or even take a photo with the extra photo button to activate the camera on your phone. But the remote has not the ability to adjust the volume.
In conclusion, the Livall MT1 is an amazing smart mountain bike helmet, it's worth every penny. It has a good battery life which lasts up to 6 hours and takes 3 hours to get a full charge. Plus, your energy will be boosted while listening to favorite music during a ride with a built-in speaker of this helmet.
PROS
Light weight
24 Air vents
SOS funtionality
built in Visor
CONS
Only avaliable in size (55cm-61cm)
The next up on our list is Coros Linx smart helmet. This well-designed helmet gives you a joy full ride while listening to music through its bone conduction technology speaker. Using a hand free could be a bad idea during a ride because it pushes the volume to an unsafe level and also you cannot hear your surroundings.
As a helmet, Coros Linx is pretty standard with good aerodynamics ventilation which effectively improves air cooling. While the helmet is little heavy for about 400gm due to the built-in battery, it isn't like uncomfortable and the safety factor is the real reason you are wearing it.
The Coros Linx smart helmet connects to your smartphone app by Coros freely available in IOS and Andriod allows you to track your rides and distance you covered. But sadly this app cannot track your fitness stats like heart rate and burn calories.  But the greatest thing about this helmet has an SOS safety function. if you happen to get Into an unfortunate accident, the immediate notification will be sent to your family.
As many smart helmets, this helmet's all function controlled by a handlebar remote. The remote control connects to booth your helmet and smartphone. To enable you to change music tracks, adjusting volume, receiving or rejecting phone calls.
And most surprising thing is that by pressing the phone sign button on the remote it can be used as a walkie-talkie. Mostly in every smart helmet, you would have to need charge booth helmet and its controller which might be the annoying thing but the controller of Coros Linx has a simple coin cell battery that lasts up to approximately a year before you swap out.
Speaking of charging, make sure you fully charge your helmet before riding.  At the back of the helmet just open the little micro USB protected cover and plug the cable in. it 'll take about 2 hours to fully charged and the included LED is awesome which tells how much battery you have left.  While charging it illuminates in solid red and the solid green light means your helmet fully charged also green light flashing means your phone is pairing to your helmet.
Music while riding, that seems a nice idea but unfortunately you can't hear the music if there is any kind of wind, the bone conduction seems more like having a low speaker. But the good thing is, it's built in microphone which technically positioned out of the wind means. So if you going on the open road at 20MPH your friend won't hear much wind noise as an unusual amount of wind sound on a regular cell phone.
PROS
Bone Conduction ear piece
Solid battery life
Nice fit
free Corox aap for IOS and Andriod
CONS
Limited smart funtionality
Old look design
4. Kask Mojito Helmet – Most Air Vented Helmet on the list
Italian brand Kask Mojito earned its stripes as the helmet of choice for team sky in its launch, it was perched on the head of Chris Froome 2014 tour de France championship winner when they cross the finish line.
The design hasn't changed since 2012 but it is still an aggressive looking helmet, offering excellent ventilation which is suitable for hot summer days commuting. The medium size of Kask Mojito weighs in 220 grams, to suit the wide range of head sizes it comes in four different sizes. Kask also released the Mojito XL for those who have larger heads can now benefit from the Mojito's close-fitting design.
Although it's close fitting, the Mojito's has also earned the reputation of supreme comfort. While the Kask up and down fitting system feature allows the user to customize the fit of their head size.
The internal removable pads are very soft and can easily remove for washing when it collects a lot of sweat. And you wouldn't feel pinches or rough edges that might bother on longer rides.
Unlike the Giro's previous helmets, however, is how the Mojito manages to have a small footprint on your head. It doesn't fill like a mushroom head. If you take a front view, it builds with 21st-century protection standard. It is also worth mentioning that it doesn't crawl into your fringe vision, so you can overlook you are wearing it at all inevitable.
The in-mold external shell construction with polycarbonate cover at the top and back of the helmet's shell is bonded to the inner polystyrene cap, also the reinforcing frame that gives an extra layer of safety to your daily commuting.
What you will notice at first glance on this helmet is the excellent ventilation that keeps you cool without sacrificing aerodynamics. The best part of this helmet is its leatherette chinstrap, the eco-leather strap provide a touch of premium feel which is so comfortable that helps to avoid itch or skin irritation.
Lastly, the issue I found is the majority of the decals are stickers instead of being painted, which means they do not have quality touch. Using Mojito helmet for a year those stickers started to peel off. If you are ok with this small inconvenience, this helmet is great to wear.
PROS
26 large air vents.
high visibility reflecter stickers on the front and at the back.
Unfussy chinstrap.
CONS
Not suitable in winter due to great ventilation.
The new Giro Vanquish MIPS helmet is pretty standard with good aerodynamic with its Smooth exterior and an adjustable brace at the back of the head.
Let's start with the MIPS. It basically a scientifically proven and a revolutionary piece of tech in bike helmets. The shell and the linear are separated by a low-friction layer which gives more protection to your brain from getting injured. The MIPS technology helmets have an inner sliding movement of 15 mm in all direction reduces the rotational forces on the brain caused by an angle impact to the helmet.
Giro better understands the aerodynamics. After computationally dynamic analysis of air flow and making wind tunnels Giro claims that the Vanquish easily beats the air attack in term of Colling effect.   The previous model of Giro Air attack has two small vents in front but the Vanquish MIPS not only doubles that number, as well as expands the extent of the vents, as well. The ten featured wind tunneling channels prevent your head from overheating, the front four vents pass the incoming air across the rider head before leaving out the back through six back exhaust port.
Giro also claims Vanquish MIPS works perfectly with the magnetic eye shield called vivid and increase the aerodynamic performance. This eye shield not only protects your eyes, but it also designs to reduce the drag while giving you excellent vision. And the most impressive thing is, the vivid lens didn't fog from inside. The two vents at the upper edge of the eye lens and two another from the sides that let a lot of air through to keep the lens clean from sweat.
When the eye shield is not in used you can store it by flipping over the magnetic eye shield grippe. Here is one thing to notice, by attaching the eye shield at the upper-side, it covers the front vents also that block the airflow that negative effect on aerodynamics.
Riding at a lower speed or when climbing, Giro Vanquish is less effective. The harder you paddle, less air would pass through to keep you cool and the temperature of the helmet will rise and your ride will be sweaty and uncomfortable.
Overall, the Giro vanquish is the most aerodynamic helmet comes with a great range of colors. However, if you do the same efforts in winter when the temperature below 20C or over then you wouldn't face the same problem, in fact, it would keep your body warm.
PROS
Great fit and excellent magnetic eye shield.
MIPS technology included.
Wind tunnel ventilation.
CONS
Not suitable for climbing
6. Coros Omni – Another Helmet for Bone Conduction Lover.
Not long ago, a smart safety gear manufacturer company Coros released their smart helmet called Linx. No doubt that helmet is packed with awesome features like jawbone conduction speaker and windproof microphone. But just after a one short year, they came up with newly designed helmet Coros Omini that is a solid, lighter weight and impressive update over Coros Linx.
Similar to Corox Linx helmet, the Coros Omni has a wireless bone conduction earpiece, windproof microphone, Bluetooth connectivity, music, and podcast, receiving phone calls, SOS emergency alert function, as well as the light-sensitive LED tail lights which are not available in Coros linx.
The addition of tail lights in Omni made a great impact on Coros products, because of that lots Cros customers are making their decision to try out this new head safety gear. The Coros Omni tail light not only controls via remote it automatically illuminates based on how dark outside and while commuting on daylight it'll remain off.
And of course the main feature, bone conduction speaker phone which is considered the backbone of every Coros helmet. An updated previous version of bone conduction, placed on the straps of the helmet which is the perfect spot for the bone conduction to work.
Safety is the first priority, the main purpose of attaching the bone conduction in bike helmet is giving you complete awareness by keeping your ears open to hear surroundings while experiencing music and having phone calls on the road. However, the speaker has a better improvement over the previous Coros Linx model. Coros Linx helmet sound tends to lose in the wind noise experience if the bike runs at 20mph if wearing a Linx helmet.
The next big thing in the Coros Omini is its 700mah battery life, which lasts about 8 hours while providing LED tail light, music, walkie-talkie, and speakerphone. However, we have to point the fact out that we didn't play the music during the whole testing. Still, it goes without saying that the battery timing is good.
Coros also redesigned their app, to more easily access to control the smart feature of the helmet. Some advanced functionality they added like track rides by using your phone GPS and calories.
If you're looking to keep the sun out, you may want to throw on a pair of shades, but Coros Omini comes with a removable visor, as the mini-visor is more for protection than it is for keeping out the elements.
PROS
Comfortable and secure fitting.
Light sensitive LED lights.
Bone conduction speaker.
Plenty of large Vents.
Excellent battery life.
CONS
Don't expect high quality sound.
7. Livall BH51M – Cool Vintage Look Helmet
It is time to welcome new innovative, ultra-modern and new level of safety to your urban ride. With Livall BH51- M smart cycling helmet keep your hand where they should be – on handle-bars. And the most fun part of this helmet is, for those who have watched a movie "Robocop" would realize this helmet looks pretty similar to that.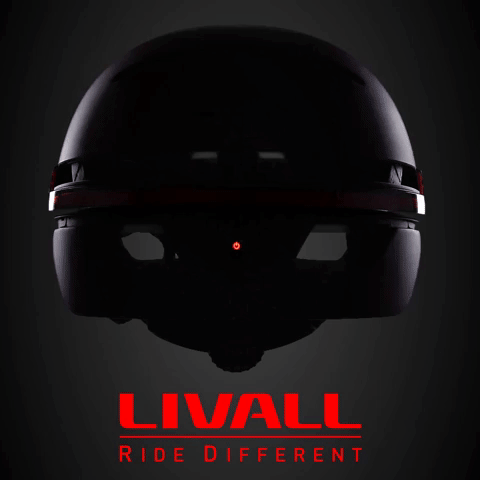 Now before we start discussing the in-depth detail of this smart bike helmet, you should know that this helmet has won several awards, at CES 2018 for innovation award and also 2017 IFA award.
This is probably the coolest head safety gear in our list. From the construction standpoint, Livall gives Bh51 M a futuristic design with little vintage look touch.
The exterior body of this helmet made from a hard plastic material with four vents along the top, also six smaller vents placed at the back of the helmet. The front vent has mesh to stop the insect from getting in your hair and beneath of that, a leather affected sun visor, which extends its premium look.
A Smart helmet without the turn-signal lights is a piece of trash. However, the Lival bh51 has a different linear effect of turn signal lightening pattern. As you can see on the right picture which is designed to completely grab the attention of the riders.
And the most amazing thing about this helmet that you may not find in other bike helmets. It recognized the environment automatically which you can set from the app, so when the sun goes down or in the low light condition it turns on and gives 270 degrees of visibility.
Free Livall app for Android and IOS gives you more access to control its feature like any other smart helmet. You can check the battery stats, set the auto-sensing function of the light and most important safety functionality of this app "SOS". If the helmet detects a serious collision, it sends an instant message to your family.
The Livall mt1 offers a smart remote that fixes on handlebar it requires pairing to your helmet the same as Bluetooth. By using this remote you can adjust volume, skip the music track, receive incoming calls and obviously make turn signals.
In term of battery life, definitely, it's up to you how you use.  Livall claims the Bh51 battery last up to 10 hours in normal usage, but in term of when you are jamming on your favorite music and taking calls while the helmet lights are on, the battery should last up to 3 to 6 hours, which is so nice for a daily short commute.
PROS
Mesmerizing lightening effect.
Handmade PU Leather Brim Visor.
SOS Alerts.
Decent battery life.
The Scott centric helmet provides extra protection without overburden on your head. Equipped with MIPS brain protection technology, that has a two-layer of fit. The inner case which is independent of the main shell, designed to spread pressure in case of a collision.
The minimal layer of padding on the inside, with X-static antimicrobial odor resistance to keep your head fresh and cool in hot summer riding. Scott's halo fit system makes fit adjustment really easy by just twisting the round dial at the back to pull the plastic cage inside of the helmet to closely adjust with your head. furthermore, you can fit a heavy winter cap underneath in it and still can get a secure fit.
Ventilation and aerodynamics don't always work well together that's why Scott's design engineer gives it different shape so air may enter and exit from the backchannel that helps you sneak through with little resistance, which won't drag you down.
Scott centric's design not only improves the aerodynamics, but it is also incredibly well ventilated and lightweight to make you feel it is not in your head. The centric plus sleek fabric straps feel smooth against the chin and cause no skin irritation on long rides.
The centric plus bike helmet sits along with the previous well-known models of Scott like Cadence Plus which provide more aerodynamic performance but it has less ventilation. One more model ARX plus offer same styling and MIPS as the Centric plus, but doesn't offer much aerodynamics as Cadence and ARX.
There are a lot of good things about the centric plus bike helmet and little downsides too. Ultimately, for anyone looking for a lightweight, high-performance summer helmet, the Scott Centric Plus is a great option.
PROS
Low weight, suitable for long rides.
HALO fit system for easy adjustment.
Plush X-Static padding to resist odor from sweating.
Moodest aerodynamic with good air flow.
CONS
Not as aero as Scott cadence.
The Troy Lee Design A2 sits among the best mountain bike helmet. First, let's talk about the most important factor, safety. The Troy Lee Design A2 (TLD A2) not only equipped with MIPS (Multi-Directional Impact Protection System) technology, this helmet has two more safety layers. The inner shell is a dual-density EPS co-molded with EPP which actually absorbs both high and low crash impact.
If you are aware of the previous helmet model TLD A1, it is less ventilated then the A2. After wearing back to back in every off-road bike ride, it seemed to realize that A1 is a bit heavier than any regular helmet. Imagine, riding a bike on the mountains in summer with a heavy helmet on the head which is less breathable also, how worst your journey would become?
The A2 improved ventilation and weight over A1 while the internal shape of this helmet is pretty similar to A1. The noticeable thing is the inner pad that contacts less to your head because to aid ventilation. However, it sits a bit high on the head that doesn't really mean to make a rider feel uncomfortable on hefty rides while wearing it.
The design has been well thought, with the spaced slots sunglasses can be stored when not in use. Padding on the old TLDA1 is flatter and traditional without the MIPS, whereas padding in A2 made with an antimicrobial material with silver which seems thick but it compresses nicely.
Also new to Troy Lee Design A2 has a non-adjustable strap which sits below the air. Although there is an insert that goes inside the helmet that will change the position of the straps.
Most of the bikers hate the maximum coverage half-shell that touches back of the neck when rider looking upwards. A1 has this issue,  yet the modification extend managed by the A2's headband fixed that issue.
PROS
Multiple air Vents without compromising safety.
MIPS brain protection system.
Dual-density EPS co-molded with EPP.
X-static washable anti-odor padded liner.
CONS
Sits bit high on the head because of MIPS and dual layer of EPS and EPP.
The visor doesn't adjust close enough to be used as a sun shield.
Here is an infographic which will help you learn about it before buying a bike helmet.
Embed This Image On Your Site (copy code below):